2017年5月19日,Rinro(凝龙幕墙咨询)一行到汉森伯盛国际设计集团做近距离的建筑外墙整体解决方案技术交流。
On May 19th, 2017, Rinro (Rinro Facade Consultation) went to Hansen Bossen International Design Group to do a close-range technical exchange of the overall solution of the external wall of the building.
SPDG Hansen Bo Shing International Design Group is a large international design company committed to providing the best designs to its customers. It was founded in Hong Kong in 1993 by Mr Eric Shing. The company has a professional design team with rich experience, high level and internationalization. There are nearly 300 professional designers in the company. They have Grade A in architecture industry and Class A and Grade A qualification in architecture design firm. It can provide customers with one-stop services ranging from planning concepts, international projects, civil engineering design, indoor and landscape design. His works have spread to more than 60 cities in China and overseas, gaining high recognition and honor in the market, and also won many outstanding design awards. He has become one of the most prestigious design units in contemporary China.
  SPDG汉森伯盛国际设计集团是一家致力于提供最优秀设计给客户的大型国际设计公司,由盛宇宏先生(Mr Eric Shing)于1993年在香港创立。公司拥有一支经验丰富、高水准、国际化的专业设计团队,现有各专业设计人员近300人,拥有建筑行业(建筑工程)甲级、建筑设计事务所甲级-双甲资质。可为客户提供从规划概念、国际方案、土建设计到室内和景观设计等领域的一站式服务。其作品已遍及国内和海外60多个城市,获得市场高度认可和荣誉,也获得众多优秀设计奖项,已成为当代中国最具声誉的设计单位之一。
This technical exchange takes about 2 hours.
The architects of Hansen Bossin asked various questions about the technical solutions of the overall solution of the facade of the external wall in response to the problems of the exterior wall of the building that they encountered in the architectural design process. The two sides conducted in-depth discussions on the waterproof performance, durability, and post-maintenance issues of the unit body curtain wall. Various technical issues have caused heated discussions among architects.
  本次技术交流活动用时约2个小时。
  汉森伯盛的建筑师们针对自己在建筑设计过程中遇到的建筑外墙难题,围绕外墙立面整体解决方案的技术方案提出了各种疑问。双方特别对单元体幕墙的防水性能,耐久性,后期维护问题进行了深入的交流探讨。各种技术问题引起了在场建筑们的热烈讨论。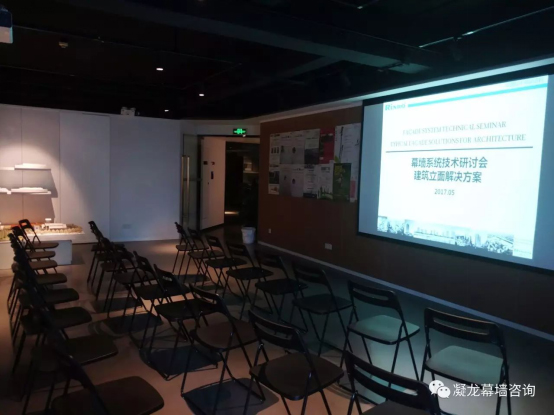 Venue Exchange交流会场
Enthusiastic exchange踊跃交流
Mr. Sheng Yuhong's Summary 盛宇宏先生会后感悟
Group Photo会后合影
As a socially responsible façade design and consulting company, Rinro (Façade Consultant) continues to maintain long-term and in-depth exchange activities with the leading architectural design institutes in the construction field, promoting the development of architecture and curtain wall design together, and working closely together. Solve the problems faced by the owners and design institutes.`
  作为一家有社会责任的幕墙设计咨询企业,Rinro(凝龙幕墙咨询)持续与建筑领域的领先建筑设计院保持着长期深入的交流活动,推动建筑与幕墙设计专业一同向前发展,通过密切配合来解决业主及设计院遇到的幕墙难题。