2021年12月15日,Rinro(凝龙幕墙咨询)邀请了始博实业集团有限公司的李帅李经理,前来给凝龙全体各地设计师们介绍幕墙材料精制钢的相关内容。此次活动通过视频会议系统对成都、贵阳、深圳分公司的同事进行直播。
近年来,追求更精致外立面效果的建筑对幕墙材料也提出了更多的要求,使用的幕墙材料种类繁多,因此设计师们需要了解这方面更多的知识,博彩众长,才能在从材料品质与可承受的成本之间找到一个最优的平衡。
On December 15, 2021, Rinro (Ninglong Curtain Wall Consulting) invited Li Shuai Li, manager of Shibo Industrial Group Co., Ltd., to introduce the relevant content of the curtain wall material refined steel to all designers in Ninglong. The event was broadcast live to colleagues in Chengdu, Guiyang, and Shenzhen branches through a video conference system.
In recent years, buildings pursuing more refined facade effects have also put forward more requirements on curtain wall materials. There are many types of curtain wall materials used. Therefore, designers need to understand more knowledge in this area and learn from the strengths of the façade. Find an optimal balance between material quality and affordable cost.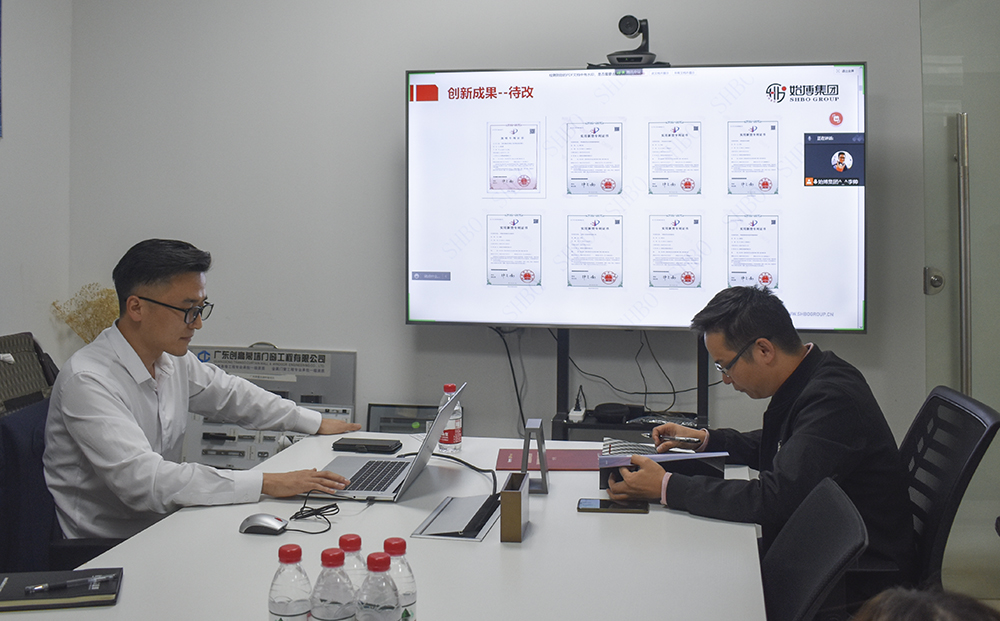 本次技术交流活动要了解的是始博集团的精制钢,始博集团主要从事精制钢型材系统的研发、生产、销售、服务、咨询等相关工作。
精制钢则是一种既能满足主体结构、雨棚、辅助结构等的基本受力需求,又能同时保有视觉美观度,体现了建筑艺术的美观,从设计、加工工艺、连接部位细节处理、及表面要求、最终产品的感官和精度都会远超普通钢结构的钢结构材料。
它的特点有平整度高、直线度高,无R角,最长可定制32米,最薄4mm,宽度任意,节点任意。外观媲美铝型材,多种材质可选。
In this technical exchange activity, we need to understand the refined steel of Shibo Group. Shibo Group is mainly engaged in the research and development, production, sales, service and consulting of refined steel profile systems.

Refined steel is a kind that can not only meet the basic stress requirements of the main structure, canopy, auxiliary structure, etc., but also maintain the visual aesthetics. It embodies the beauty of architectural art. From the design, processing technology, connection details, And the surface requirements, the sense and precision of the final product will far exceed the steel structure materials of ordinary steel structures.
Its characteristics are high flatness, high straightness, no R angle, the longest can be customized to 32 meters, the thinnest is 4mm, the width is arbitrary, and the nodes are arbitrary. The appearance is comparable to aluminum profiles, and a variety of materials are available.
根据其特性与优点,常常运用在以下建筑和场所。
According to its characteristics and advantages, it is often used in the following buildings and places.
精制钢与铝材
始博精制钢生产流程
材料介绍阶段结束后,各地设计师通过会议系统,对如成本、耐久性、现场安装、结构偏差等问题进行了深入地讨论,至此活动圆满结束,设计师们进一步扩充了幕墙材料方面的知识,为以后的工作奠定了良好的基础,今后Rinro(凝龙幕墙咨询)也将会多多开展此类外墙新型材料使用培训技术交流活动。
After the material introduction stage was over, designers from all over the country conducted in-depth discussions on issues such as cost, durability, site installation, and structural deviations through the conference system. So far, the event has ended successfully, and the designers have further expanded their knowledge of curtain wall materials. It has laid a good foundation for future work. In the future, Rinro (Ninglong Curtain Wall Consulting) will also carry out more training and technical exchange activities on the use of such new exterior wall materials.