2021年春节即将来临,在此深深感谢各位客户长期以来对凝龙的支持,根据国家规定,结合公司的实际情况,我们将于2021年2月7日正式进入春节假期, 2021年2月21日回到工作岗位。
The Spring Festival of 2021 is approaching, and I would like to deeply thank all customers for their long-term support to Rinro. According to national regulations and the actual situation of the company, we will officially enter the Spring Festival holiday on February 7, 2021, February 21, 2021 Return to work today.
在此,提前恭祝广大新老客户,新春快乐,生意兴隆,万事如意!
Here, I wish the new and old customers in advance, a happy Chinese New Year, a prosperous business and all the best!



02

佳兆业广州集团创新研究中心所

优秀合作伙伴颁奖会



2021年1月30日,凝龙受邀参加佳兆业广州集团创新研究中心所举办的"凝心聚力,共创佳作"优秀合作伙伴颁奖会。
On January 30, 2021, Rinro was invited to participate in the awarding ceremony for outstanding partners of "Concentrate and Create Great Works" organized by Kaisa Guangzhou Group Innovation Research Center.
会上,佳兆业广州集团创新研究中心颁发了"建筑类服务标杆奖",凝龙凭借多年以来的高质量设计图纸、快速高效的服务响应获得此奖项。这也充分体现了佳兆业集团对凝龙的信赖与专业认可。
At the meeting, Kaisa Guangzhou Group Innovation Research Center awarded the "Architectural Service Benchmarking Award". Rinro won this award for years of high-quality design drawings and fast and efficient service response. This also fully reflects the trust and professional recognition of Kaisa Group to Rinro.
03
中海地产感谢信
2021年2月3日,Rinro(凝龙幕墙)收到了中海发展(广州)有限公司感谢信,衷心感谢我司王华森、邓景龙、王嘉浩、黄子君、肖世文、关宇健、黄健铭、廖辉鹏等在广州中海熙园项目上的拼搏付出,并对我司的工作给予了高度的赞扬。
On February 3, 2021, Rinro received a letter of thanks from China Shipping Development (Guangzhou) Co., Ltd., sincerely thanking our company Wang Huasen, Deng Jinglong, Wang Jiahao, Huang Zijun, Xiao Shiwen, Guan Yujian, Huang Jianming, Liao Huipeng, etc. for the hard work in the Xiyuan project.And gave high praise to our work.
在新的一年里,凝龙将持续秉承"精益求精、一丝不苟、耐心严谨"的工匠精神,携手各位合作伙伴打造更多的精品项目,在幕墙设计及施工服务中不断创新,为共创美好生活,守护美好生活品牌使命持续奋进!
In the new year, Rinro will continue to uphold the craftsman spirit of "excellence, meticulousness, patience and rigor", work with partners to create more high-quality projects, and continue to innovate in curtain wall design
.And strive for the mission of creating a better life and protecting a better life brand!
04
祝贺Rinro签约多个
外墙设计项目


汕头大学东校区建设地点位于汕头市东海岸新城塔岗围片区,建设内容包括图书馆及学习中心、多功能文化服务中心、行政办公楼 、实验院系组团、公共教学实验楼、南校门、地下停车场等,以及配套的道路广场、绿地景观等室外工程,总占地面积334亩。
The construction site of the East Campus of Shantou University is located in the Tagangwei area of East Coast New City, Shantou. The construction content includes a library and learning center, a multi-functional cultural service center, an administrative office building, an experimental department group, a public teaching laboratory building, the south gate, and the underground Parking lots, etc., as well as supporting road squares, green landscapes and other outdoor projects, cover a total area of 334 mu.
项目幕墙面积为:11.9万平方米,主要幕墙系统为:铝板幕墙、玻璃幕墙、铝合金百叶、铝合金门窗、石材幕墙。
The curtain wall area of the project is 119,000 square meters. The main curtain wall systems are: aluminum panel, glass curtain wall, aluminum alloy louvers, aluminum alloy doors and windows, and stone curtain wall.
清远城市广场地处广清新城核心,距离广清城轨银盏站约2.8公里,3站直接到达广州北站,6站30分钟到达广州市中心站——火车站,同时引进了华南师范大学附属清远高新学校,是清远唯一一个公立小学+初中的华师系学校。
Qingyuan City Plaza is located in the core of Guangqing City, about 2.8 kilometers away from Guangqing Urban Rail Yinzhan Station, 3 stations directly to Guangzhou North Station, 6 stations and 30 minutes to Guangzhou Central Station-the railway station, and at the same time the introduction of South China Normal University Qingyuan High-tech School is the only public elementary school and junior high school in Qingyuan.
建设规模:用地面积68035平方米,总建筑面积289815平方米,地上建筑面积247790平方米,地下建筑面积42025平方米。
Construction scale: The land area is 68035 square meters, the total construction area is 289815 square meters, the ground construction area is 247790 square meters, and the underground construction area is 42025 square meters.
项
目主要外墙系统包括商业裙楼外装饰、大堂入口外装饰、门楼外装饰、异地样板房外装饰等,如玻璃幕墙、石材幕墙
、金属幕墙、铝合金门窗、雨蓬、广告牌、栏杆、百叶、钢结构局部改造等。
The main curtain wall system of the project includes the exterior decoration of commercial podium, the exterior decoration of the lobby entrance, the exterior decoration of the gate building, the exterior decoration of the model room in different places, such as glass curtain wall, stone curtain wall, metal curtain wall, aluminum alloy doors and windows, canopy, billboards, railings, louvers, steel structures, etc.
未来苑(A1区)
未来苑(A1区)位于佛山市南海区大沥镇水头社区桂和路,由11栋高层住宅组成,呈围合式设计。配套方面,除了水景和体育健身场地外,小区东南角还设有18班幼儿园一处。
Future Garden (A1 Zone) is located at Guihe Road, Shuitou Community, Dali Town, Nanhai District, Foshan City. It is composed of 11 high-rise residential buildings with enclosed design. In terms of supporting facilities, in addition to water features and sports and fitness venues, there is also a kindergarten with 18 classes in the southeast corner of the community.
项目幕墙门窗面积:约5.6万平米,主要幕墙系统:铝板幕墙、瓷板幕墙、地弹门、铝合金门窗、铝合金百叶、玻璃栏杆等。
The curtain wall area of the project is 56,000 square meters.The main curtain wall systems are aluminum panel, porcelain curtain wall, floor spring doors, aluminum alloy doors and windows, aluminum alloy louvers, glass railings, etc.
福山项目


福山项目位于广州市黄埔区位于中泰天境花园东侧,广汕公路以南,丰彩街以西。主要建设内容包括安置房、公共服务设施(如社区服务站、星光老年之家、综合管理用房、社区居委会、社区议事厅、社区服务站、文化室、社区卫生站、肉菜市场、居民健身场所、社区日间照料中心、幼儿园、托儿所、小学、邮政所等)、市政公用设施(如垃圾收集站、再生资源回收点、公共厕所等)以及室外配套工程。
The Fushan project is located in Huangpu District, Guangzhou, on the east side of Zhongtai Tianjing Garden, south of Guangshan Highway and west of Fengcai Street. The main construction content includes resettlement houses, public service facilities (such as community service stations, Xingguang Home for the Elderly, comprehensive management houses, community neighborhood committees, community conference halls, community service stations, cultural rooms, community health stations, meat and vegetable markets, residents' fitness Places, community day care centers, kindergartens, nurseries, primary schools, post offices, etc.), municipal public facilities (such as garbage collection stations, renewable resource recycling points, public toilets, etc.), and outdoor supporting projects.
项目幕墙面积为:4.5万平方米,主要幕墙系统为:铝板幕墙、玻璃幕墙、铝合金格栅。
The curtain wall area of the project is 45,000 square meters. The main curtain wall systems are: aluminum panel, glass curtain wall, aluminum alloy lattice.
南沙湾英东大道项目
南沙湾英东大道项目该地块坐落于英东大道以南、港前大道以西,处于南沙湾核心地带,区位条件十分优越。临近地铁4号线南沙客运港站约800米远,周围配套有世贸中心、总商会大厦以及广州二中南沙天元学校。
Nansha Bay Yingdong Avenue Project is located in the south of Yingdong Avenue and west of Gangqian Avenue, in the core area of Nansha Bay, and the location conditions are very superior. It is about 800 meters away from Nansha Passenger Terminal Station of Metro Line 4, surrounded by World Trade Center, General Chamber of Commerce Building and Guangzhou Second Middle School Nansha Tianyuan School.
项目主要幕墙系统为玻璃幕墙、立面LOGO铝板系统、泳池屋顶挑檐铝板、门窗系统、装饰百叶系统、连廊系统、玻璃栏杆系统、亚克力泳池栏杆、屋顶格栅、玻璃采光顶。
The main curtain wall systems of the project are glass curtain wall, facade LOGO aluminum panel system, swimming pool roof eaves aluminum panel, door and window system, decorative louvers system, corridor system, glass railing system, acrylic swimming pool railing, roof lattice, and glass skylight.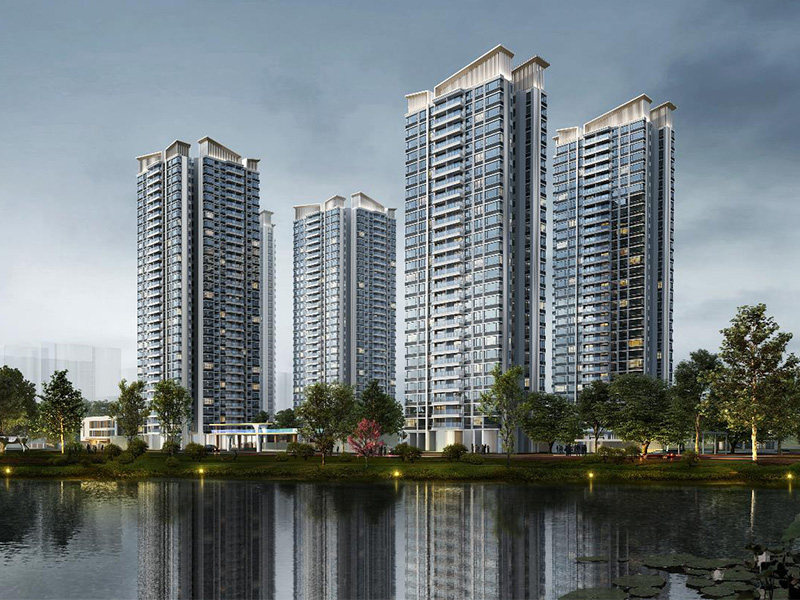 05
春节福利大放送



2021年2月3日,为答谢广大员工的辛勤努力工作,确保广大员工过好春节,秉承公司关爱员工的人性化体制,激发员工工作热情,在公司的统一安排下,为全体员工发放春节的福利。
On February 3, 2021, in order to thank the employees for their hard work and ensure that the employees have a good Spring Festival, we will uphold the company's humanized system of caring for employees and stimulate employees' enthusiasm for work. Under the unified arrangement of the company, we will provide all employees with the Spring Festival welfare.
此次为员工发放福利,充分体现了公司对员工的人文关怀,为员工送去了一份浓浓的关爱和温暖,确保了全体员工带着公司的新年祝福,怀着愉悦的心情,共度新春佳节。
The distribution of benefits to employees this time fully reflects the company's humanistic care for employees, and sends a strong care and warmth to employees, ensuring that all employees take the company's New Year blessings and enjoy the new year together.